Fully Featured Photocopiers
Fully Featured Photocopiers
If you are a large business who relies heavily on their photocopier then you are looking in the right section.
Our fully featured photocopiers are jam-packed with the latest technologies and are designed to handle large amounts of paperwork.
Functionalities
We stock a lot of different fully featured photocopiers at Commercial Business Equipment and here we know that there will never be two businesses who are the same. This is why the fully featured photocopiers are fantastic for individualisation. Not everyone requires the exact same functions when using their photocopier and this is why we are a competitive company in the industry. We can offer a unique tailor-made machine that works exactly for what you need. These photocopiers focus on the specific needs for each customer, which provides a clear focus on user convenience and customer satisfaction.
The operating panels of these new fully featured machines are solely focusing on user-friendliness by following similar trends of what smartphones and tablets use. This makes them a winner when it comes to anyone using them as they require very little training. This is due to office users often complaining about the operating panel being too confusing to use due to its excessive amount of buttons. The new Develop fully featured photocopiers solves these problems by allowing you to activate the functions you need and hide the ones you don't need. This customisation saves time.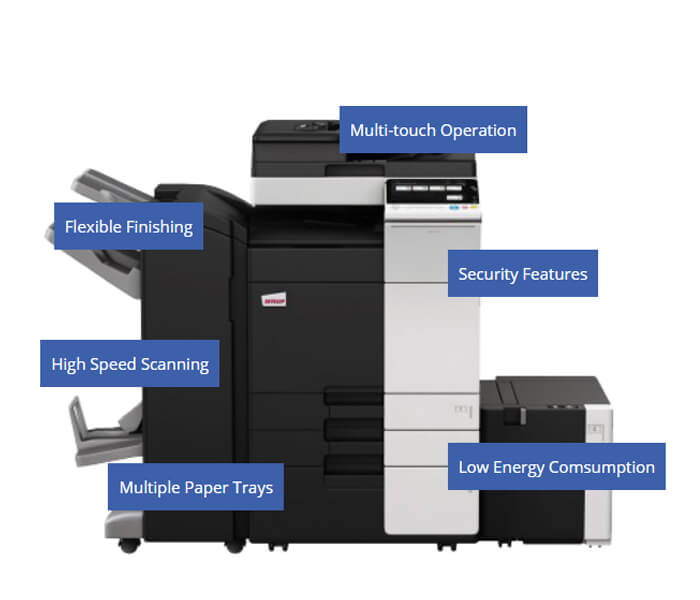 Is this machine right for you?
You need to be sure that this category of the photocopier is going to be right for your business? If you are a company who require a more powerful machine to tend to a large number of copies per day then this is perfect for you.
Process
Leasing – When you lease a photocopier from us it will usually last around 3 – 5 years. The main advantages of leasing are that you will have the opportunity to pay the high-end cost of a machine over a period of time. You can save capital to invest back into your business by spreading the costs.
Rental – We offer a rental structure for businesses who are unsure whether their business is going to grow fast or take its time. This gives you the opportunity to have one of our photocopiers but not necessarily be submitted to a long lease deal. Moreover, you have the opportunity to add to or upgrade your rental photocopier when you like.
Purchasing – If you have a lot of investment into your business then you may want to purchase a photocopier outright to reduce any monthly costs going out of your business. You will still receive the same customer service as you would with a lease or rental scheme.
Why Commercial Business Equipment?
One of our main services is customer service, the customer always comes first. If you were to buy a photocopier outright from a high-end store then you may think you are getting a cheap deal, this might be true but the customer service from a local family run business is what helps in the long run. We have an excellent team of engineers who are always on the road helping businesses to install or fix their machines. We have a very quick response time targeted at 4 hours.
Furthermore, we offer a copyplan with the photocopiers. This cost covers your maintenance, replacement of ink/toner and over the phone support. The savings you make through having a copyplan is worth paying a little bit more on the machine.
We are always happy to respond to any questions you may have about our products, our expert sales team have all of the answers. Call us now on 01772 822777 or fill out a photocopier quote.
Get A Quote